Recently, Kansas Governor Laura Kelly vetoed Kansas SB 180 or the Kansas Women's Bill of Rights. The bill would ban any identification of a gender other than the gender assigned at birth in the state of Kansas, despite federal recognition of transgender people. I applaud Governor Kelly for vetoing the proposed ban on transgender athletes for the third straight year. Even though the veto is heading for a likely override, that type of leadership and commitment are important, especially as other states, including Arizona, have similar bills put forth.
Titling the Kansas bills as "Women's Bill of Rights" is an affront to the "Bill of Rights" created by the National Organization for Women (NOW) in 1968 that called for "a new movement toward true equality for all women in America, and toward a fully equal partnership of the sexes…". The name is of course purposefully misleading and is a clear attempt to obfuscate the true intent – discrimination and a rolling back of rights and protections for marginalized genders. However, the bill's title got me to thinking. Below are three things I would include in a Women's Bill of Rights for 2023.
1. Equal Pay for Equal Work
March 14 is this year's Equal Pay Day because it marks the day that a woman must work through in 2023 to receive the same pay as a man doing similar work earned in 2022. Simply put, the average woman must work 14.5 months to make what the average man earns in a year. However, there are some key exceptions, as it takes even more time for women of color to reach pay equity with white male peers.
Sixty years after John F. Kennedy signed the Equal Pay Act to end gender pay discrimination, women still make only 84 cents on the dollar compared to men and 77 cents compared to white men. As bad as this is, it's even worse for most women of color. Recent study by McKinsey found that working to improve gender equity could add as much as $13 trillion to global GDP in the next seven years. Furthermore, closer to home researchers found that "in 2018 alone, racial gaps in wages and employment for working-age people cost the Chicagoland economy about $136 billion in lost economic activity." Addressing this racial inequity in income would double the average annual income of BIPOC workers.
2. Affordable and comprehensive healthcare
Health care is costly and inequitably available. At CFW, we assert healthcare as a human right! We also specifically like to see policies that address the root causes of the unacceptably wide racial disparities in health outcomes—outcomes ranging from infant and maternal death to overall life expectancy.
All people deserve a full array of physical and mental health services at each stage of life, and the array must include full reproductive justice. People of all gender identities should be informed of and have access to safe, effective, and affordable contraception; as well as access to gender-affirming health care services and pregnant people should have the ability to go safely through pregnancy and childbirth with the best chance of having a healthy infant.
It is also important to note that food security, affordable housing and childcare, freedom from violence, high-quality education, and a healthy environment are foundational to good health, and these must also be addressed if we are to end racial and economic disparities in health outcomes and achieve good health care for all.
3. Expand Access to Affordable, Quality Childcare
Most Illinois families struggle to afford childcare. In Illinois, the rising cost of early childhood development services means that hundreds of thousands of working parents across the state are left without affordable care options for their children. Illinois ranks eighth in the nation for the highest cost of infant care relative to median family income. Illinois also has the distinction of being included in the list of states where childcare is least affordable for single parents.
And while quality childcare remains out of reach for many families who need it due to cost, one in five early childhood educators in Illinois live in poverty  – two facts that are difficult to reconcile.
These three are top of a long list, but collectively, they could have an immediate and significant impact on moving the needle of equity for women. For our part, CFW continues to work on these and many other areas to ensure women and their families thrive. I'd like to know what you would include in your Women's Bill of Rights.
Sending love and light, 

While I have you…
What I am reading this month: The School for Good Mothers by Jessamine Chan
While this book was published in January 2022, its themes feel very au courant. I have described the book as being to child welfare and parenting, what
The Handmaid's Tale was to women's bodily autonomy. And this recent headline has reaffirmed that Chan's novel is an important warning to us all. If you read it, send me a line to let me know.
EVENTS
Joint Grantee Celebration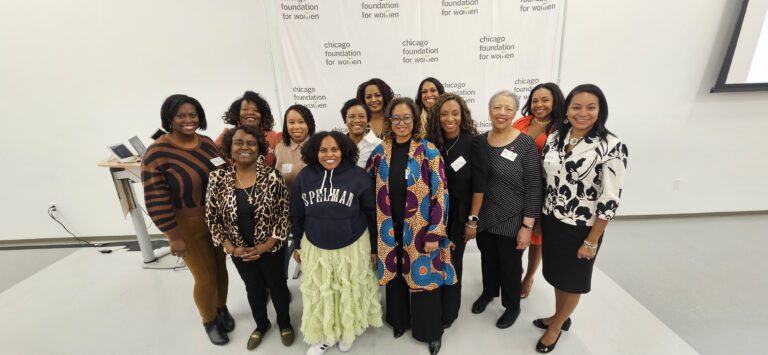 CFW hosted a Joint Grantee Celebration event to recognize outstanding leaders and organizations that are a part of our South Side Giving Circle and West Side Giving Circle. 
Planned Parenthood Illinois Annual Celebration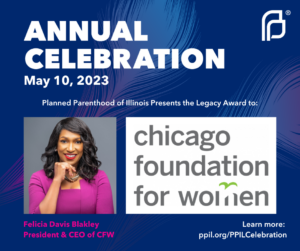 CFW is honored to be presented with the 2023 Legacy Award at the Planned Parenthood of Illinois Annual Celebration on May 10th. CFW's President and CEO, Felicia Davis Blakley, will accept the award. Learn more and purchase tickets here.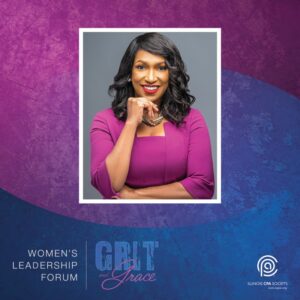 Illinois CPA's Women's Leadership Forum is a few weeks away! On May 12th, learn how the power of community has impacted CFW's President and CEO, Felicia Davis Blakley, throughout her diverse career and how our unique experiences can help us blaze our own trails. Table sponsorships and individual registrations are still available! Register today here.
Are you a feminist? Baby August is modeling CFW's, "Hello I'm a Feminist" onesie. Visit our online  shop  to see all of our merch for both babies and adults. We also have mugs, masks, and totes!

We are seeking candidates for the following open positions:
Manager of Donor Data and Stewardship is responsible for coordinating and overseeing CFW's fundraising efforts and operations by providing support services, including analysis, applications support, list management, business process, and other services related to all donor data used by CFW.
Director of Communications & Events Marketing will oversee all communications involving the organization, including developing and implementing communication strategy and a broad and diverse range of marketing communications.The
Special Events & Marketing Associate will assist with the coordination and implementation of revenue generating and community events for Chicago Foundation for Women. In collaboration with the Events Manager, the Director of Communications and Events Marketing, the Chief Development Officer and other team members, the Associate will assist in developing and executing strategies to expand and engage our community of stakeholders.
Find the full job descriptions  here.
WVON- 1690-AM
CFW's President and CEO, Felicia Davis Blakley, joined WVON-AM to discuss her serious op-ed published in the Chicago Tribune addressing how Chicago needs to confront its women leadership bias and offers solutions to help lift up women in the community. Listen to the interview
here
.
Univision Radio with Aileen Ocana
CFW's Individual Giving and Campaign Manager, Nancy Garcia, joined Univision Radio to discuss CFW's work and the impacts CFW has accomplished for women and girls across Chicago, especially the Latina community. Listen to the full interview here.
CAN-TV's Chicago Newsroom 2.0
CFW's President and CEO, Felicia Davis Blakley, discussed CFW's work and women's leadership on CAN-TV's Chicago Newsroom 2.0 with host Andrea Zopp. Watch the full interview here.
Complimentary Tickets Hubbard Street Dance Chicago's Summer Series: FACETS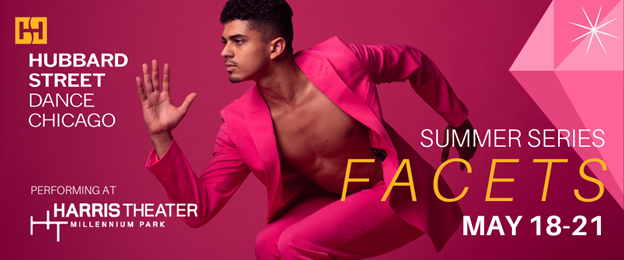 Black Founder Startup Grant
SoGal Foundation has teamed up with Winky Lux, bluemercury, twelveNYC, Twilio, Walmart.org's Center for Racial Equity and other sponsors to make a small step towards progress by providing several $10K and $5K cash grants to Black women or nonbinary entrepreneurs. To apply visit  here.
City of Evanston Entrepreneurship Support Grant
The program is intended to assist in the growth of jobs in Evanston through entrepreneurship, helping residents and local business owners to create jobs by starting and retaining sustainable small businesses. Funds can be used to cover operating expenses, equipment, licensing fees, and other eligible expenses. Learn more about eligibility  here.
Between Friends is hiring an Executive Director 
The Executive Director of Between Friends will lead and oversee all affairs related to the organization, and is responsible for directing and overseeing the operations of the agency, including fundraising, fiscal management, program management, public relations, and implementing the Boards' directives. The successful candidate must be a skilled leader, and comfortable working in a highly collaborative environment where self-care is emphasized. Learn more here.
A Long Walk Home is seeking a Development Director
ALWH is seeking a full-time Development Director who will be responsible for the fundraising efforts within an organization; building relationships, securing philanthropic support that helps to fuel programs or projects. The Development Manager works closely with the Executive Director and Director of Operations and Partnership to identify, solicit, and steward gifts in support of A Long Walk Home's mission. Learn more here.
The City of Chicago Law Department is hiring!
The City of Chicago Law Department is hiring for entry, mid, and supervisor level attorneys. View the open positions and job descriptions here.
Community Resources
Support Minority and Women-Owned Businesses
Search by various criteria the City of Chicago minority and women-owned businesses here.
Bossy Chicago has curated a list of women-owned businesses in various sectors across Chicago, which you can find here.
YShop – YWCA Metro Chicago's online store, offering a curated selection of goods and services with a portion of each sale benefiting YWCA
Mental Health Resources
The National Alliance on Mental Illness (NAMI) has compiled a list of mental health resources you can find here.
2-1-1 Metro Chicago Hotline
211 Metro Chicago is a free resource connecting all Cook County residents with essential health and social services to help them meet their basic needs. Trained, local specialists are available 24/7 to connect individuals with the support they need, such as food, housing, utility assistance, access to health care, and other vital resources. Learn more here.
BACP Nonprofit Capacity Calendar