FROM THE PRESIDENT
PRIDE & PREJUDICE
In Jane Austen's most famous novel, two lovers learn they must overcome their Achilles heels of pride and prejudice to be together. In the real world, there's never too much pride—at least during the month of June, when we come together to celebrate the LGBTQIA+ community. Prejudice, however, is an unwelcome companion this year. 
While Chicago Foundation for Women (CFW) is proud to support the LGBTQIA+ community every month, this June we are extra cognizant of the prejudice, discrimination, and violence directed towards our transgender and nonbinary community members. 
We are often asked why, as a foundation for women, we support organizations focused on trans and nonbinary individuals in our funding areas. Our work is rooted in ensuring people from all gender identities can thrive in our city and uplifting the very organizations on the front lines who are holding and supporting these communities. This includes "marginalized genders." We use the term to refer to our community of members who experience marginalization due to their gender. This group expands beyond cisgender women and includes transgender women and nonbinary people, among many other marginalized gender identities.
In a recent conversation with a group of BIPOC trans people, they shared with me that the only time their community feels "seen"—even within the larger LGBTQIA+ community—is when something terrible happens. They often see a rallying of support only after an act of violence. 
In the past few years, politicians across the country have pushed out a record number of laws attacking LGBTQIA+ rights. From banning drag shows to prohibiting teachers from educating students about queer history, it's clear that a few hateful voices are imposing their prejudice on others. 
LGBTQIA+ advocates have called out "performative allyship." Each year come June, organizations and brands change their logos or overlay them with rainbow colors and offer a deal or two along with the statements of support and solidarity. However, come July, the rainbows are gone and so is the urging for support of the LGBTQIA+ community. Some corporations, eager to participate in Pride celebrations when it increases profits, have withdrawn their support altogether and capitulate in the face of prejudice. Target, notably, bowed to pressure and removed some of its Pride merchandise—while other stores moved their remaining selection to more remote aisles.
Even among the many assaults against recent LGBTQIA+ rights, laws focused on excluding and controlling transgender bodies stand out as particularly egregious. In 2023 alone, 520 anti-LGBTQIA+ laws have been introduced in state legislatures, with more than 220 specifically geared at transgender and nonbinary individuals. 
Origins of Pride–Say Their Names
We owe credit to Marsha P. Johnson and Sylvia Rivera. 
In June 1969, police raided Stonewall Inn, a gay bar in Greenwich Village, and arrested several employees and patrons, including some who were in violation of the state's "gender-appropriate clothing statute." Violence broke out in response to police brutality, led in part by two trans women of color: Marsha and Sylvia. The ensuing protests are considered the catalyst to the gay rights movement; the first gay pride marches occurred in 1970 to commemorate Stonewall. 
Marsha and Sylvia went on to co-found the Street Transvestite Action Revolutionaries and had many other activist accomplishments. Yet they often faced discrimination from gay rights organizations led by gay men. 
More than half a century later, we see too many similar stories of prejudice, culminating in the Human Rights Campaign declaring a state of emergency for the LGBTQIA+ community in the United States. That's why in our work at CFW, we view it as crucial to push for equity for all marginalized genders. We do this by providing grants to organizations focused on and led by both women and members of the LGBTQIA+ community. We also hosted Talk it Out: Moving Beyond the Binary, which took a fresh look at what it would take to move beyond the binary towards a more inclusive movement for gender equity. We can never again leave any of our sisters behind. 
As we wrap up Pride month, it's a good time to reflect on how we can grow the good in our country by fighting for gender and racial equity. For all of us at CFW, that's by working toward a society where people are free to express whichever gender they identify with while living safe, fruitful lives. 
Sending light and love,

EVENTS
CFW's 38th Annual Luncheon
We are seeking candidates for the following open positions:
The Director of Finance organizes and manages all foundation finances and serve as a strategic advisor to the President/CEO and all senior management. The job responsibilities include budgeting, forecasting, and strategic planning. The Director of Finance will oversee all fiscal reporting within the foundation, as well as current and future investment activity. 
Find the full job descriptions here.
Staff Update: Rosemary Adams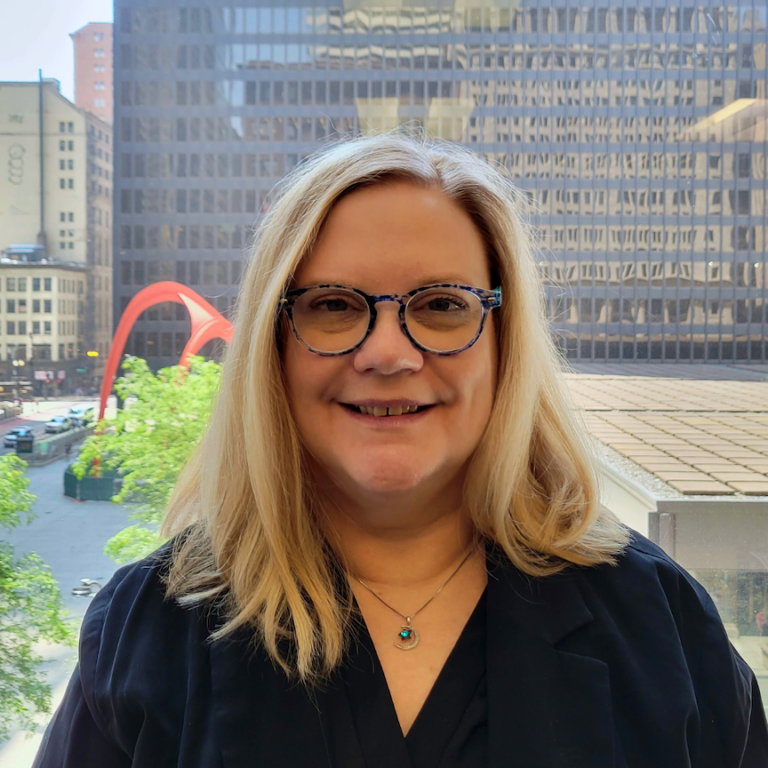 Rosemary Adams joined the CFW team in June as Director of Communications and Events Marketing. With more than 25 years experience in nonprofit communications and marketing, Rosemary is dedicated to building upon CFW's already-powerful public presence and to sharing the stories of its diverse and dynamic activities, programs, and collaborations. She is particularly interested in the use of social media and other digital tools to further engage and expand CFW's audiences.
As the editor in chief of Chicago History magazine, Rosemary showcased the diverse stories of the women who built Chicago, whose achievements are so often overshadowed. At CFW, she looks forward to further amplifying the voices of all Chicago women. Rosemary is the author and editor of many books, including A Wild Kind of Boldness: The Chicago History Reader, What George Wore and Sally Didn't: Surprising Stories of America's Past and Inspiring Beauty: 50 Years of Ebony's Fashion Fair.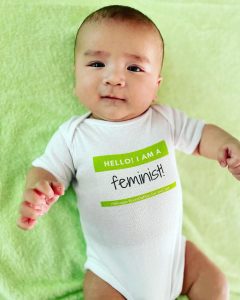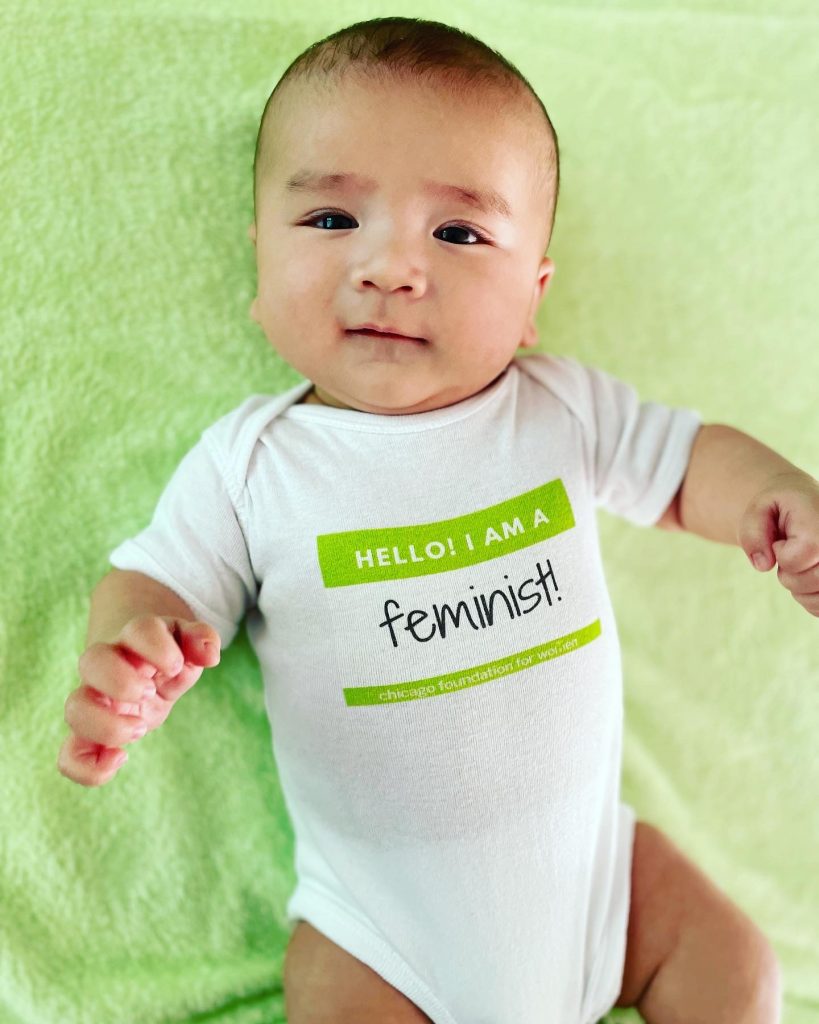 Are you a feminist? Baby August is modeling CFW's, "Hello I'm a Feminist" onesie. Visit our online  shop  to see all of our merch for both babies and adults. We also have mugs, masks, and totes!
Alliance Magazine
Learn more about the impact of Giving Circles, including CFW's LBTQ's Giving Circle, by reading a piece in Alliance Magazine written by Women Funding Network's President and CEO, Elizabeth Barajas-Román. Read here the full article here.

Susan G. Komen is hiring!
The Executive Director (ED) for Chicago provides community development and leadership for a defined geographic market area with accountability for a minimum million-dollar annual revenue target. Responsible for profit and loss management and operational excellence to ensure ROI targets are achieved. Responsible for managing development staff and leading a market-based volunteer Komen Leadership Council engaged in fundraising to support and grow the Komen community. Learn more and apply here. 
Black Founder Startup Grant
SoGal Foundation has teamed up with Winky Lux, bluemercury, twelveNYC, Twilio, Walmart.org's Center for Racial Equity and other sponsors to make a small step towards progress by providing several $10K and $5K cash grants to Black women or nonbinary entrepreneurs. To apply visit  here.
City of Evanston Entrepreneurship Support Grant
The program is intended to assist in the growth of jobs in Evanston through entrepreneurship, helping residents and local business owners to create jobs by starting and retaining sustainable small businesses. Funds can be used to cover operating expenses, equipment, licensing fees, and other eligible expenses. Learn more about eligibility  here.
The City of Chicago Law Department is hiring!
The City of Chicago Law Department is hiring for entry, mid, and supervisor level attorneys. View the open positions and job descriptions here.
Community Resources
Support Minority and Women-Owned Businesses
Search by various criteria the City of Chicago minority and women-owned businesses here.
Bossy Chicago has curated a list of women-owned businesses in various sectors across Chicago, which you can find here.
YShop – YWCA Metro Chicago's online store, offering a curated selection of goods and services with a portion of each sale benefiting YWCA
Mental Health Resources
The National Alliance on Mental Illness (NAMI) has compiled a list of mental health resources you can find here.
2-1-1 Metro Chicago Hotline
211 Metro Chicago is a free resource connecting all Cook County residents with essential health and social services to help them meet their basic needs. Trained, local specialists are available 24/7 to connect individuals with the support they need, such as food, housing, utility assistance, access to health care, and other vital resources. Learn more here.
BACP Nonprofit Ongoing Programming