Willie's Warriors Leadership Initiative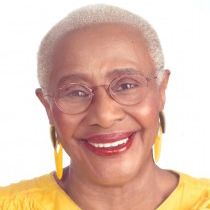 The Rev. Willie T. Barrow was a Civil Rights activist, minister, co-founder of Operation PUSH, and mentor to multiple generations. As a leader in Chicago's civil rights movement, Rev. Barrow believed in breaking barriers and challenging the status quo, mentoring an ever-expanding pipeline of leaders. She helped to build connections with others working for change, often saying, "We are not so divided as we are disconnected."
Rev. Barrow believed in bringing women together to support and learn from each other. That work continues through Willie's Warriors, a leadership development cohort of Black women in the Chicago region. Rev. Barrow's legacy and fierce commitment to justice lives on through The Willie Taplin Barrow Fund for Black Women's Leadership at Chicago Foundation for Women.
Willie's Warriors was created to honor and continue the legacy of the Reverend Willie Taplin Barrow, with support from Rev. Barrow's estate in partnership with African American Legacy (AAL) at the Chicago Community Trust. 
The Willie's Warriors program offers participants a space to gain a deeper sense of themselves as leaders, strengthening their personal leadership style and bringing their whole selves to the table. Warriors explore the idea of leadership, personal growth and transformation, and how to sustain themselves while moving our communities forward.
A co-created curriculum focuses on systems change, economic empowerment, communications, and building alliances across movements and communities. Warriors have the opportunity to learn from experts and each other.
Willie's Warriors is open to Black women from all sectors, industries, and educational backgrounds interested in nurturing their leadership and relationships with other Black women leaders in the Chicago region.
Applications for Willie's Warriors 2024 cohort are now open! The applications will close November 16th at 11:59 pm. Apply today here.
For more information, contact Lora York (Director of Programs) at lyork@cfw.org.