With the Thanksgiving holiday behind us we are firmly in the midst of the holiday season. For me, it is also a season of gratitude. This time of year, I often begin to think about all of the things I'm grateful for- first and foremost: I am thankful for those who joined us both in person and virtually for Undivided Power in Resistance! The conversation featuring Margaret Atwood and April Ryan was poignant, timely, and, at times, humorous. The discussion centered on the current state of affairs for women, but also touched upon Margaret's interest in history and the role history has played in her work throughout her career. In particular, her writing is based on her research into how dictators and dictatorships are formed.
When asked how women of all backgrounds can come together in these critical moments, Margaret responded, "You're doing it. Look at where you are."
Looking around me at that moment, I was honored to be in the room with so many of our CFW supporters, funders, and partners. A special energy is felt in a room full of CFW family and community. I felt warmth, excitement, and pride in being among like-minded individuals. Our shared commitment to equity and justice is the throughline that ties us all together. As we stand in community, undivided, I know that we can, and we will, channel our power to topple the barriers erected to divide us.
I'm filled with gratitude for those that have come before us and laid the groundwork for our work, especially as we've come out of a midterm election that has defied expectations. We made our voices heard here in Illinois, working undivided to keep our state a safe haven for all women. Not to mention the wave across the country, with all 50 states now having elected to send a woman to Washington. So far, 62 women have already won statewide elected offices, including Governor. They will join the 27 women already serving as statewide elected officials who were not up for reelection in 2022. At least 135 women will serve in the 118th Congress in 2023—that number will likely grow—over a dozen women remain in Congressional contests too close to call. Twelve women will serve as Governors in 2023, a new record. Arkansas, New York, and Massachusetts elected their first female governors. Vermont, sent the state's first woman and first LGBTQ person ever elected to Congress from that state. Here in Illinois, the number of LGBTQ officials increased by ten percent – from 50 to 54.
Voters in California, Michigan, and Vermont enshrined reproductive rights in their state constitutions, and in Kentucky voters said no to a proposal that would have rejected abortion protections in the state constitution. Also coming up short was a Montana abortion-related referendum that raised the prospect of criminal charges for healthcare providers who provide abortions.
There is still work to be done, but we are still here and will always strive for justice. We forge on changing hearts and minds, building a movement – undivided.
Sending love and light,

Felicia Davis Blakley
President and CEO
Chicago Foundation for Women
In gratitude - The CFW Team
Thank you for joining us in support of this year's #GivingTuesday campaign. It's an honor to have you be part of our CFW community. We could not do this work without your continued support and partnership. We raised more than $3,000 to further CFW's SHEcovery™ goals. Thank you for your ongoing commitment and investment.
Call for Impact Awards Nomination
Chicago Foundation for Women's Impact Awards has a long tradition of honoring incredible local leaders that work tirelessly to ensure woman and girls have the support they need to succeed. The Foundation is seeking nominations for the 2023 Impact Awards. Award recipients will be honored at the Impact Awards to be held in 2023.
The Selection Committee is dedicated to CFW's goal of increasing diversity and inclusion. As part of this effort, we highly encourage nominations for individuals from historically underrepresented groups.
The deadline has been extended for nominations. Nominations are now due by Friday, December 16th, 2022 / 5:00 PM Central Time. To nominate an outstanding individual, click here.
37th Annual Luncheon – Undivided: Power in Resistance
Over 1,200 attendees joined us in person and virtually last week for the 37th Annual Luncheon: Undivided Power in Resistance. We were all empowered by a captivating musical performance by Edith Yokley, the compelling statements from our grantee speaker Margarita Klein, Director of Member Organizing at Arise Chicago, and the wonderful fireside conversation featuring renowned authors and activists, Margaret Atwood and April Ryan. To view photos from the 37th Annual Luncheon visit here.
Staff Update: Christine Sanborn
Christine Sanborn has over 30 years of experience in accounting and finance, working and consulting in many industries and companies from Fortune 500 corporations to mom-and-pop shops. Prior to joining Chicago Foundation for Women as the Interim Chief Financial Officer, she spent four years as the Director of Finance for Mercy Home for Boys and Girls in Chicago. In recent years, Christine has focused both her personal and professional life to serving those in need through involvement with nonprofits. She was a team member of the recent pro-bono Booth Alumni Nonprofit Consulting (BANC) project with CFW. For the past three years, she has enjoyed being a tutor for at risk girls through both Mercy Home's Friends First program and Tutoring Chicago. Christine earned her MBA from University of Chicago Booth School of Business and her BS from Illinois State.
If you'd like to connect with Christine, reach her via email at csanborn@cfw.org.
Staff Update: Vanessa Lee
Vanessa Lee has over a decade of experience working for nonprofits serving children and families in a variety of direct service and administrative roles including as a mental health professional in a residential center, a coordinator of a family literacy program for immigrant and refugee families, and a program evaluator for school-based programs. Prior to joining Chicago Foundation for Women in the role of Program Officer, Collective Giving, she was the Equity Strategy Coach on the Community Systems Statewide Supports (CS3) team at Illinois Action for Children; CS3 provides training and technical assistance to early childhood community collaborations across Illinois. Vanessa was a 2018 Chicago United for Equity fellow and a 2021 senior fellow. She received her M.S. from Erikson Institute and her B.A. from Northwestern University.
If you'd like to connect with Vanessa, reach her via email at vlee@cfw.org.
CFW's Giving Councils and Circles Membership
Membership is now open for our Giving Councils and Circles! Interested in joining? There are affinity and geographically based Councils and Circles near you. Learn more here.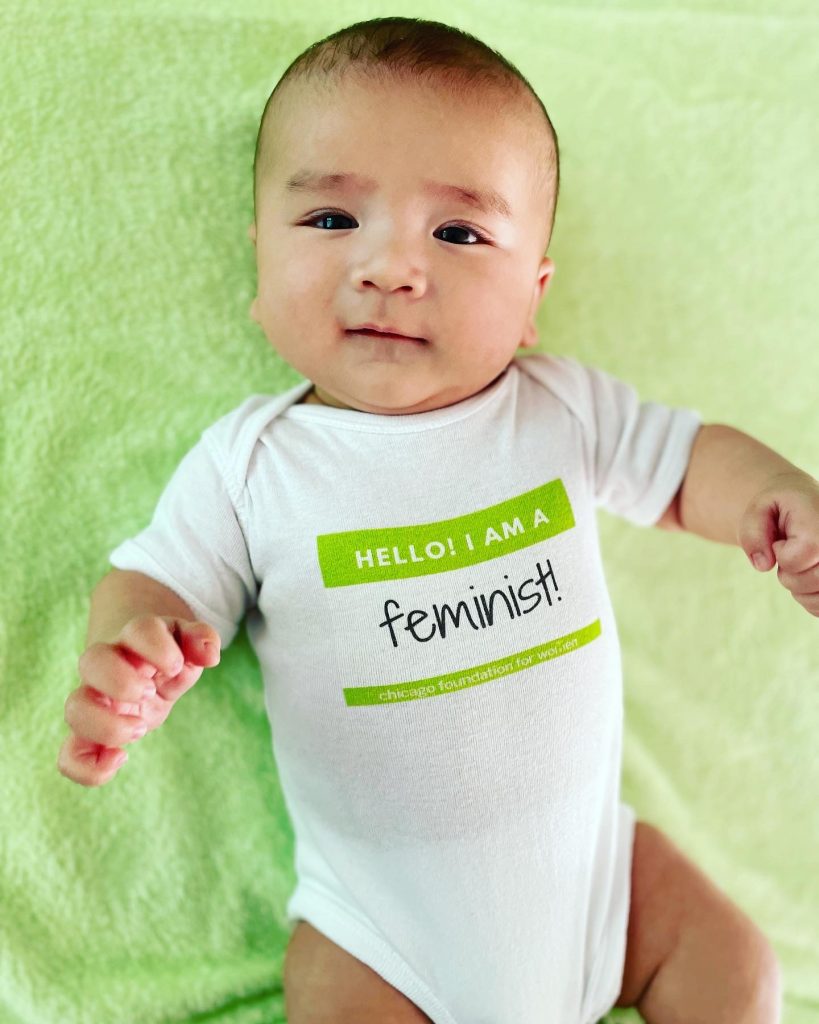 Are you a feminist? Baby August is modeling CFW's, "Hello I'm a Feminist" onesie. Visit our online shop to see all of our merch for both babies and adults. We also have mugs, masks, and totes!
Manager of Donor Data and Stewardship is responsible for coordinating and overseeing CFW's fundraising efforts and operations by providing support services, including analysis, applications support, list management, business process, and other services related to all donor data used by CFW.
Find the full job descriptions here.