The U.S. Midterm elections are a little over a week away! Have you made your plan to vote? This month, I led two important conversations hosted by CFW that centered on the upcoming election. It's important to be as informed as possible as we plan, and exercise our vote. Did you know that women almost always vote at higher rates than men do? We have also seen indications that more women are registering to vote in the wake of the Supreme Court decision that ended a federal right to abortion.
Since the recent Dobbs decision overturning Roe v. Wade, more people have been paying attention to the upcoming midterm election. A recent Chicago Poll highlighted that nearly 75 percent of respondents see the midterm election as the most important upcoming election, more so than the upcoming municipal election in the spring of 2023.
During our Talk It Out conversation featuring Rebecca Sive, author, speaker, and activist, and Delmarie Cobb, owner of The Publicity Works, we spoke about the importance of supporting women candidates and ways to encourage more Women of Color to run for office. According to a recent analysis by the Center of American Women and Politics (CAWP) at Rutgers University, 2022 marks a record high for women running in gubernatorial and Senate races, but the total number of women running for the House of Representatives fell slightly from previous cycles. Women of traditionally underrepresented racial and ethnic backgrounds also broke records in candidate numbers this year, according to CAWP's analysis, which is a move in the right direction. We've also heard it takes a woman to be asked seven times before she decides to run for office, even for the local school board!
The importance of this information is not lost on me. Decisions are being made without a woman's perspective in mind. Women, overwhelmingly, but especially Women of Color, need to be "in the room where it happens," as famously quoted in the musical Hamilton, and at that table where all decisions are being made, as Shirley Chisholm famously said. Delmarie and Rebecca underscored the importance of supporting women at all levels of government, not just with our vote but with our time and dollars.
As a follow-up to our Talk It Out conversation, we hosted the 2022 Grab 'Em by the Ballot: What's at Stake for Women and Girls virtual panel conversation featuring Chi Chi Okwu, Executive Director at EverThrive; Sharmili Majmudar, Executive Vice President of Policy and Organizational Impact at Women Employed; and Katrina Phidd, Communications Director at Chicago Votes. The conversation centered on the issues the upcoming midterm election may impact most, and what voters should be aware of as they make their plan, and vote.
Ahead of our conversation, we asked our Instagram followers if they'd made a plan to vote and what was the most important issue in the election. CFW followers' responses align with what we see across the region. Fifty-seven percent of respondents said they were voting early, 29 percent said they were voting by mail, and 14 percent were voting on election day. As for the top issues, 60 percent of respondents said reproductive health, and 40 percent said the economy.
Our panelists also shared the importance of the Illinois Supreme Court's two open seats and the 61 judges running for retention in Cook County, which is a significant part of our legislative structure, and unfortunately, are a long list at the end of the ballot. The panelists shared resources that could help as you make your plan to vote, which I've listed out below.
Resources for Before and After you Cast Your Vote
Call 1-800-Our-Vote if you encounter any issues as you cast your vote.
Nonpartisan Vote Center & Chicago Votes Voter Guide
Pro-equality and pro-choice candidates
Policy Brief on the Workers' Rights Amendment
Our voices, our experiences, and our votes matter! I recently saw the documentary Punch 9 For Harold Washington, which chronicles the run of the first Black mayor of Chicago and the community that supported him. It was a wonderful surprise to see CFW friend Judy Wise listed among the Executive Producers. Watching the documentary highlighted the importance of coalition building and working toward a unified goal. It's the unifying thread of our work at CFW every day. Elections matter – make your voice heard on November 8th.
Sending love and light,

Felicia Davis Blakley
President and CEO
Chicago Foundation for Women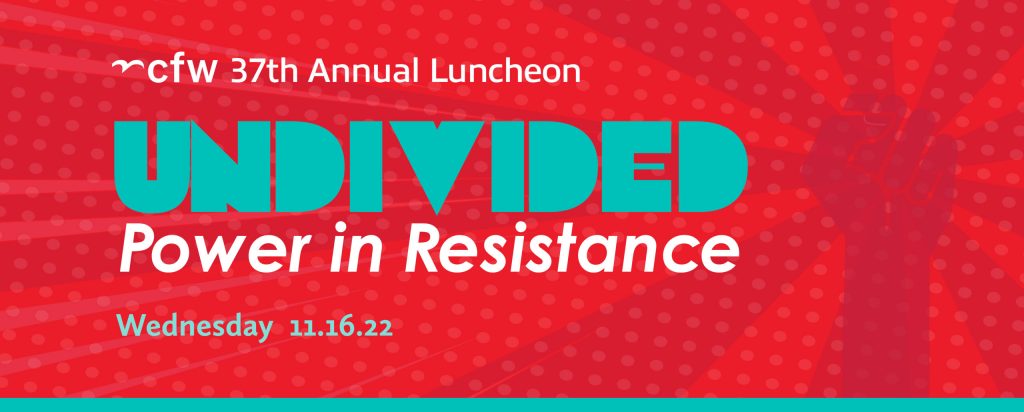 Join us on Wednesday, November 16th, for an inspirational event celebrating our undivided power to overcome the challenges faced by women, girls, trans, and gender nonbinary people throughout the Chicago region. Renowned authors and activists Margaret Atwood and April Ryan will join us in conversation leading the charge to create change in our communities.
Margaret Atwood is a literary icon and quintessential feminist figurehead in accentuating the force of women in the changing modern world. Margaret Atwood has long been a literary titan, but "current events have polished the oracular sheen of her reputation" (The New Yorker). With her 1985 novel, The Handmaid's Tale, adapted into a fifteen-time Emmy Award-winning television series and its sequel, The Testaments, winning the 2019 Booker Prize, Atwood's sharp eye is more crucial—and prescient—than ever.
April Ryan has a unique vantage point as the only Black female reporter covering urban issues from the White House – a position she has held since the Clinton era. Her position as a White House Correspondent has afforded her unusual insight into our nation's past presidents' racial sensitivities, issues, and attendant political struggles. April Ryan is an award-winning author and has an exciting new book release this fall Black Women Will Save the World: An Anthem.
You won't want to miss it!
Your support of the Luncheon directly supports CFW's mission to invest in women, girls, trans, and gender nonbinary people to build strong communities for all.
Learn more about our featured speakers and this year's Annual Luncheon by visiting CFW's website.
Staff Update: Jenna Mrotek
Jenna joined Chicago Foundation for Women in October of 2022, having previously worked as the Development Assistant at the Gene Siskel Film Center, a public program of the School of the Art Institute of Chicago. She graduated from the University of Wisconsin-Madison in 2018 and has been working in nonprofit development since, with particular interest in organizations supporting social justice and sustainability. As the Development Associate at CFW, Jenna provides administrative support to the Development and Communications departments at CFW, as well as project-specific support in the areas of grant writing, special events and donor relations.
If you'd like to connect with Jenna, reach her via email at jmrotek@cfw.org.
Call for Impact Awards Nomination
Chicago Foundation for Women's Impact Awards has a long tradition of honoring incredible local leaders that work tirelessly to ensure woman and girls have the support they need to succeed. The Foundation is seeking nominations for the 2023 Impact Awards. Award recipients will be honored at the Impact Awards to be held in 2023.
The Selection Committee is dedicated to CFW's goal of increasing diversity and inclusion. As part of this effort, we highly encourage nominations for individuals from historically underrepresented groups.
The deadline has been extended for nominations. Nominations are now due by Friday, December 16th, 2022 / 5:00 PM Central Time. To nominate an outstanding individual, click here.
CFW's Giving Councils and Circles Membership
Membership is now open for our Giving Councils and Circles! Interested in joining? There are affinity and geographically based Councils and Circles near you. Learn more here.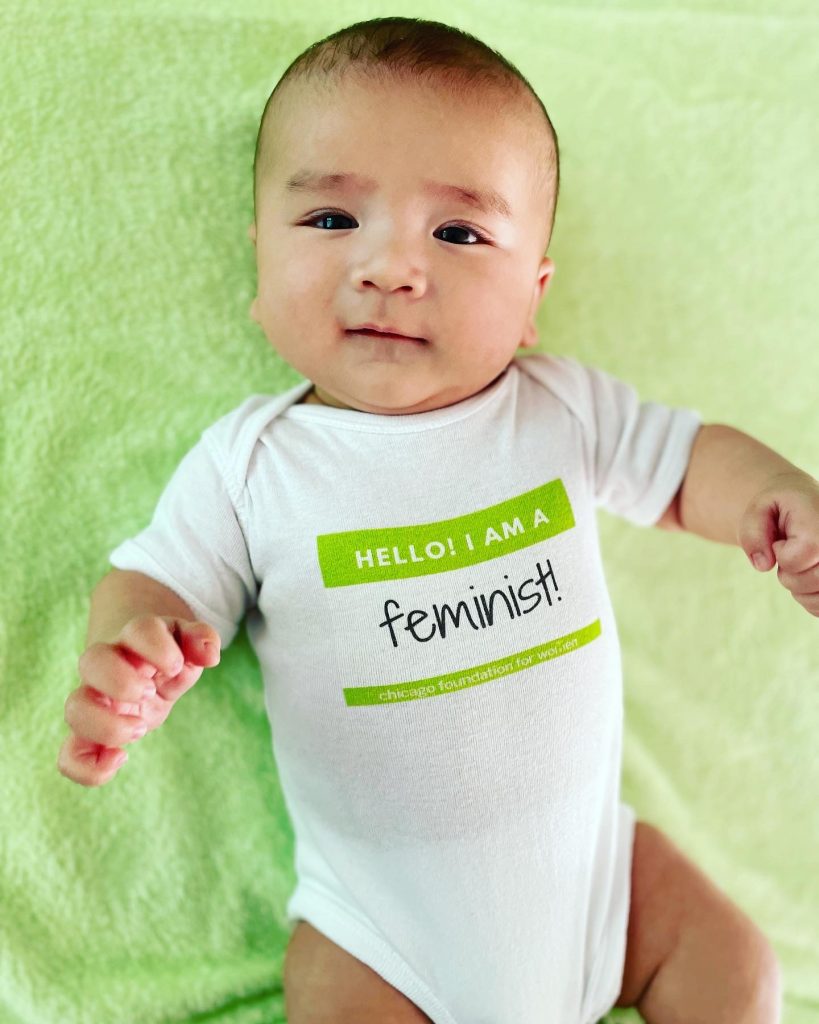 Are you a feminist? Baby August is modeling CFW's, "Hello I'm a Feminist" onesie. Visit our online shop to see all of our merch for both babies and adults. We also have mugs, masks, and totes!
Manager of Donor Data and Stewardship is responsible for coordinating and overseeing CFW's fundraising efforts and operations by providing support services, including analysis, applications support, list management, business process, and other services related to all donor data used by CFW.
Find the full job descriptions here.