The Impact of War on Women and Girls
According to the United Nations, in 2022 more than 600 million women and girls lived in conflict-affected countries, and incidents of political violence targeting women increased by 50 percent in those countries over the last two years. Reading the news and seeing images of recent conflicts in places like Gaza, Ukraine, and Sudan, it is heartbreakingly clear that women and children who survive the bombs and shooting make up the overwhelming majority of innocent people displaced, traumatized, grieving and picking up the pieces of their lives.
The impact of war on women takes many forms, some more apparent than others. Pre-existing discrimination is only heightened, and they often bear the heavy burden of gendered violence, poverty, and increased inequity. Women are also often targets of systemic sexual violence and abuse as a tactic of war and destroying communities. And, access to essential, life-saving services like reproductive and prenatal healthcare are disrupted, leading to potentially devastating consequences for both a mother and her children. 
At our very core, the Chicago Foundation for Women advocates for the rights of women to fulfill their potential so that they can have healthy and safe lives. This means having access to safe communities, shelter, living wages, healthcare and education. It also requires basic necessities from shelter, fuel,and food, to blankedts, menstrual products, and diapers. 
Refugees from conflict face many challenges in their first few years living in a new country. Language and cultural barriers can create difficulty in navigating the complex systems of healthcare, education, and employment. Women can be even further marginalized by missing out on language learning opportunities because of a lack of child care or because there are cultural expectations to remain in the home. Services responding to their specific needs are often rare, and even if they do exist, are seriously overwhelmed,  
CFW funds organizations providing refugees with the supports needed to overcome these challenges. Syrian Community Network (SCN) is a refugee and immigrant support organization that bridges the gap of services provided by resettlement agencies(which end within 6 months after a refugee's arrival)to help them navigate complex systems in a new country. SCN has developed Support Circle to provide a safe space where refugee women can in their own language discuss topics important to them and in a context sensitive to their cultural and religious backgrounds. These topics intersect with nearly all social determinants of health (economic stability, neighborhood environment, education, food, community context, and the healthcare system), which staff trained in in  trauma-informed services facilitate. By the staff demystifying these systems and participants openly discussing and learning about available resources, families can meet some of the harsh challenges refugees may be experiencing.
In these times, our whole world seems battered and bruised. Here at CFW, we support women's organizations on the front lines of peace supporting and advocating for women fleeing war, organizations like RefugeeOne and GirlForward.
RefugeeOne is a resettlement organization in Chicago that helps newly arrived evacuees rebuild their lives. CFW is supporting their women's health services, including both mental and physical health services that women and girls need to address the trauma and lack of medical care. GirlForward is working to create a community of support dedicated to creating and enhancing opportunities for girls displaced globally by conflict and persecution. They work with refugee young women, helping them with school and to navigate a new community and culture. Like the women that RefugeeOne supports, these girls often have suffered sexual assault and other trauma that require sensitive counseling.
The first important steps are to break down historical gender norms that restrict women's access to education and economic resources and exclude them from decision-making, making them vulnerable to many forms of violence and abuse are. And especially in wartime and its aftermath, we need more funding for women's organizations because very often it is women stepping up first to consider the needs of others. Services that are women-focused must be expanded and reliably funded to strengthen women and girls here and around the world. We all rise when we lift up sisters everywhere. 
Together we will persist,
Sunny Fischer,

Events
CFW's 38th  Annual Gathering
Last Tuesday, was CFW's 38th Annual Gathering. We were all inspired by the keynote address about courage, resilience, and persistence given by the extraordinary social activist, Amanda Nguyen. To view photos from the event visit the photo album on our Facebook page here.
Applications are now open for 2024 Willie's Warriors Leadership Initiative 2024 Cohort!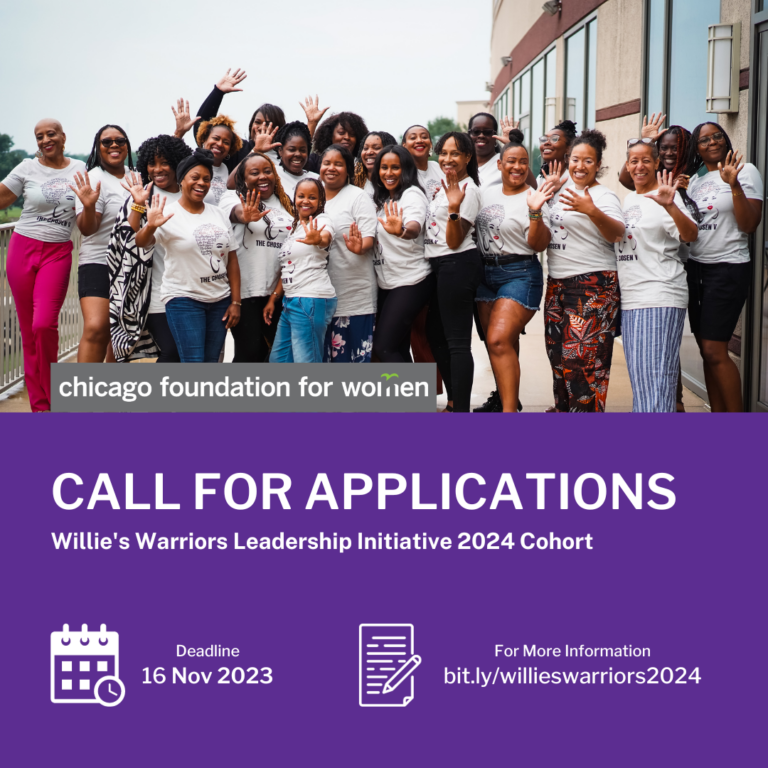 Applications are open for the Willie's Warriors Leadership Initiative 2024 Cohort! Warriors explore the idea of leadership, personal growth and transformation, and how to sustain themselves while moving our communities forward. Willie's Warriors is open to Black women from all sectors, industries and educational backgrounds interested in nurturing their leadership and relationships with other Black women leaders in the Chicago region. Apply by November 16th here!
LBTQ Giving Council Pre-Holiday Popup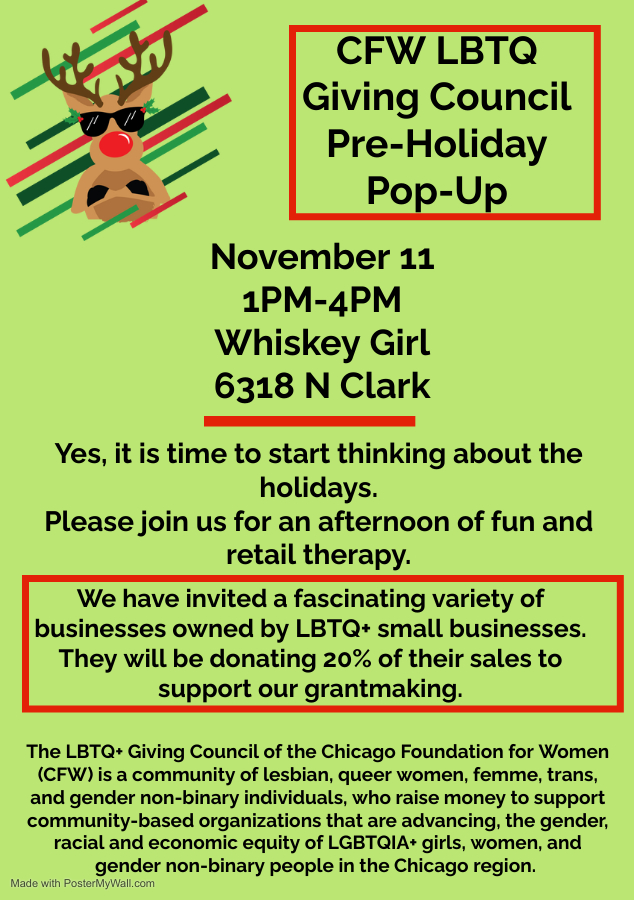 The LBTQ Giving Council will be hosting a holiday pop-up shop featuring women-owned small businesses on Saturday, November 11, 2023. A percentage of sales will go to the LBTQ Giving Council. Some vendors include:
Cards by Blake – handmade holiday cards
Kandle 33 – handmade candles
Unorthodox – clothing, accessories & leather goods
As the Crow Flies – art
Royal Oils – soaps & oils
Keep It Savory – salts & spices
Castillo Publishing – books
Pottery After Dark – pottery
The Kayla Kollection – eyewear, fedoras & berets
West Side Giving Circle Virtual Open House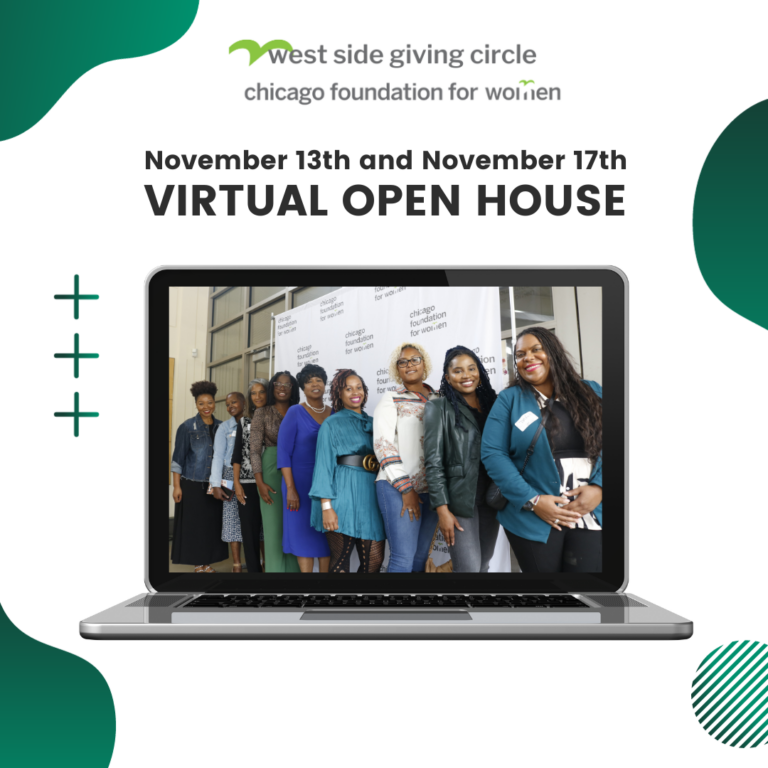 The West Side Giving Circle envisions a Chicago where all Black women and girls, and their families can thrive. They are hosting virtual open houses on Monday, November 13 at 6-6:30pm and Friday, November 17 at 12-12:30pm where prospective members can learn more about the circle. If interested, please register here for either open house to receive additional information.
South Side Giving Circle Belly Dance Workshop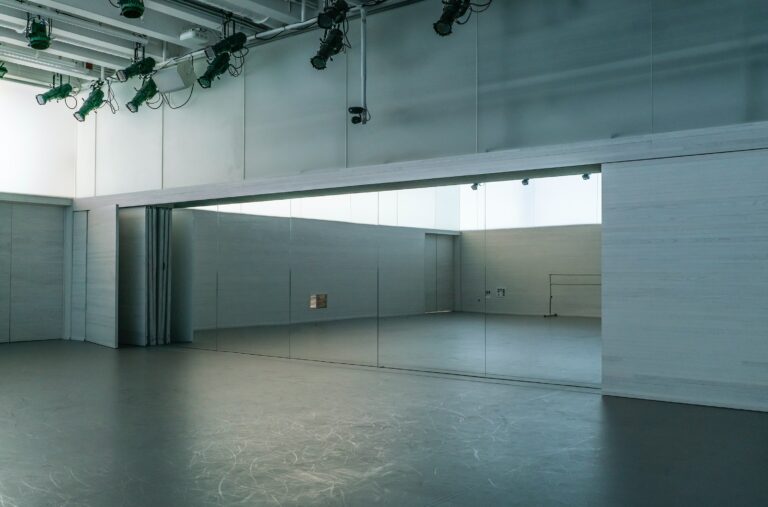 Have fun getting fit! The South Side Giving Circle (SSGC) is hosting a fundraising belly dance workshop on Saturday, November 18 from 4-5:30pm to benefit the SSGC. The location is Block House Gallery (11137 S Langley Ave, Chicago, IL 60628), and there is free street parking. For one participant it is $25 and for two participants attending together it's $40. Take a chance and belly dance! Bring a friend and register here.
Young Women's Giving Council's Girl, Let's Work It Out: Join us for a workout class with a cause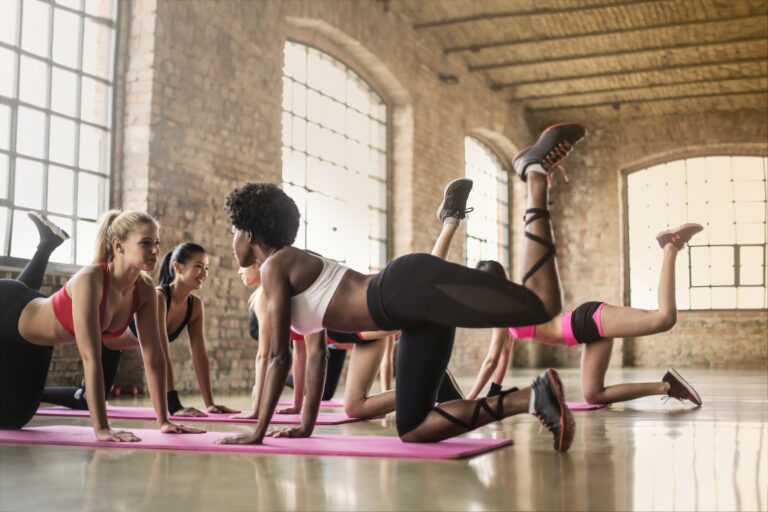 The Young Women's Giving Council will be holding a workout class fundraiser on Sunday, November 19 from 1:30-2:15pm at White Box Theater in Old Town (1535 N. Dayton St). The cost is $35.00 per person and light refreshments will be served. All are welcome so register today here!
Open Call for New Giving Council and Giving Circle Members!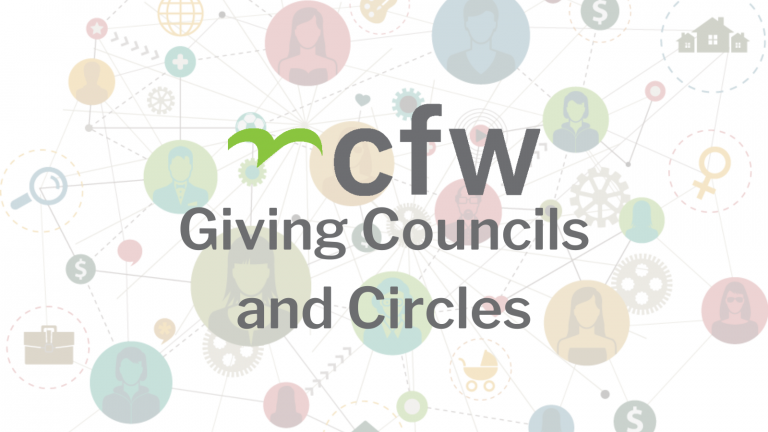 Giving Councils and Circles link grassroots organizations to funding and the Foundation to new issues, leaders, and ideas. The Young Women's Giving Council, LBTQ Giving Council, West Side Giving Circle, Western Suburbs Giving Circle, and South Side Giving Circle of CFW are all currently recruiting new members this fall for the new grant cycle. Visit here to learn more about membership for each circle and council.

We are seeking candidates for the following open positions:
The Director of Development is responsible for growing the resources and sustainability of the Foundation. This individual also oversees the development team. This person frequently represents the Foundation with key stakeholders, community members, donors, and organizational allies.  
The Director of Finance is responsible for ensuring the stability of the organization's finances. The Director of Finance will assess financial markets and identify solutions to any issues that may arise.
Find the full job descriptions here.

Unity Parenting and Counseling is hiring!
Unity Parenting and Counseling is hiring for the next President & CEO ("CEO"). The CEO will lead Unity to achieve even greater levels of strategic influence, impact, and innovation. The CEO will provide overall management of the market including development, programs, operations, facilities management, purchasing, and budgeting for a budget of approximately $8.5 million. To learn more visit here. 
City of Evanston Entrepreneurship Support Grant
The program is intended to assist in the growth of jobs in Evanston through entrepreneurship, helping residents and local business owners to create jobs by starting and retaining sustainable small businesses. Funds can be used to cover operating expenses, equipment, licensing fees, and other eligible expenses. Learn more about eligibility here.
The City of Chicago Law Department is hiring!
The City of Chicago Law Department is hiring for entry, mid, and supervisor level attorneys. View the open positions and job descriptions here. 
Community Resources
Support Minority and Women-Owned Businesses
Search by various criteria the City of Chicago minority and women-owned businesses here.
Bossy Chicago has curated a list of women-owned businesses in various sectors across Chicago, which you can find here.
YShop – YWCA Metro Chicago's online store, offering a curated selection of goods and services with a portion of each sale benefiting YWCA
Mental Health Resources
The National Alliance on Mental Illness (NAMI) has compiled a list of mental health resources you can find here.
2-1-1 Metro Chicago Hotline
211 Metro Chicago is a free resource connecting all Cook County residents with essential health and social services to help them meet their basic needs. Trained, local specialists are available 24/7 to connect individuals with the support they need, such as food, housing, utility assistance, access to health care, and other vital resources. Learn more here.
For White Allies
For Latinx Allies
For Talking About Race with Children
Bystander Intervention Training