Felicia Davis Blakley
President and CEO
Chicago Foundation for Women
UPCOMING EVENTS
CFW's LBTQ Giving Council Open House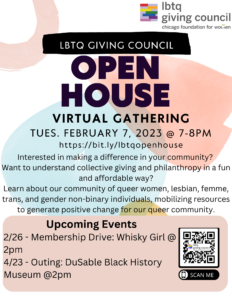 Learn all about how you can generate positive change for the LBTQ community! CFW's LBTQ Giving Council is hosting a virtual open house on Tuesday, February 7th, from 7:00 to 8:00 pm. Join us here!
OUR NEWS
CFW Funding Opportunities

Chicago Foundation for Women has released the application for new applicants for its 2023 Spring Grant Programs/Cycles. Due date for all new application is February 6.
Funding opportunities include
Primary Cycle

 focused on general operating and program support (both direct service and advocacy) across all three issue areas

Epidemic of Violence: Missing and Murdered Women of Color focuses on program and general operating support grants supporting community solutions, interventions, and deeper interrogations to understand the root causes of this on-going epidemic

Reproductive Justice Champion

 focused on women of color-led organizations and efforts to build the reproductive justice movement
Are you a feminist? Baby August is modeling CFW's, "Hello I'm a Feminist" onesie. Visit our online  shop  to see all of our merch for both babies and adults. We also have mugs, masks, and totes!
We are seeking candidates for the following open positions:
Manager of Donor Data and Stewardship is responsible for coordinating and overseeing CFW's fundraising efforts and operations by providing support services, including analysis, applications support, list management, business process, and other services related to all donor data used by CFW.
Director of Communications & Events Marketing will oversee all communications involving the organization, including developing and implementing communication strategy and a broad and diverse range of marketing communications.
Find the full job descriptions  here.
Disrupting Privilege: Conversations on Race & Health
CFW's President & CEO, Felicia Davis Blakley joined Equal Hope's podcast with John McIlwain and Mary Richardson-Lowry. She spoke about about CFW's beginning and the growth under her leadership. Listen to the full interview  here.
CAN TV's In The Arena with Darrious Hilmon 
CFW's President & CEO, Felicia Davis Blakley was joined Darrious Hilmon for guest on the winter premiere of "In The Arena" on CANTV. The episode, "This Woman's Work" follows Blakley's upbringing and career path. Watch the full episode  here.
Hear from two founding mothers of the Reproductive Justice movement, Dr. Toni Bond and Loretta Ross, along with CFW's President and CEO, Felicia Davis Blakley, on Make it Work Nevada's "American Dreams" podcast. Listen to the full podcast here. 
Rolling Out: Felicia Davis Blakley says her purpose is effecting change in the community
CFW's President and CEO, Felicia Davis Blakley, spoke with Eddy "Precise" Lamarre from Rolling Out about effecting change through her work and the lessons she's learned as a leader. Read the full article  here.

CWTA's 2023 Women's Mayoral Forum
CFW co-sponsored the 2023 Mayoral Forum at the Chicago Temple on January 14th. Mayoral candidates spoke about the issues women care about. Watch the full forum  here. 
The screening of "The Janes" presented by YWCA, CFW, and CSRPC
CFW co-sponsored the sold out screening of "The Janes" documentary presented by YWCA Chicago and CSRPC at the University of Chicago: Max Palevsky Cinema at Ida Noyes Hall on January 26th.
CAAIP at the Chicago Cultural Center for Giving Back: The Soul of Philanthropy Reframed and Exhibited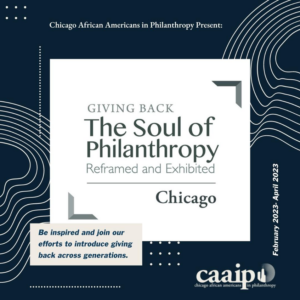 Kick off Black History Month with CAAIP at the Chicago Cultural Center for Giving Back: The Soul of Philanthropy Reframed and Exhibited. Get more information to plan your visit at TSOPChicago.org. Check out events here.
Cook County Reentry Initiative
The Cook County Justice Advisory Council has announced a new $8 million funding opportunity for organizations providing eligible services to returning residents in Chicago and Suburban Cook County. To learn more visit here!
Nonprofit Capacity Building Program Phase 1
Chicago Department of Business Affairs and Consumer Protection has launched its Nonprofit Capacity Building program today with the Chicago Mayor's Office, which will offer coaching and assistance to nonprofits interested in applying for Chicago Recovery Plan opportunities. Apply today here.
Black Founder Startup Grant
SoGal Foundation has teamed up with Winky Lux, bluemercury, twelveNYC, Twilio, Walmart.org's Center for Racial Equity and other sponsors to make a small step towards progress by providing several $10K and $5K cash grants to Black women or nonbinary entrepreneurs. To apply visit here.
City of Evanston Entrepreneurship Support Grant
The program is intended to assist in the growth of jobs in Evanston through entrepreneurship, helping residents and local business owners to create jobs by starting and retaining sustainable small businesses. Funds can be used to cover operating expenses, equipment, licensing fees, and other eligible expenses. Learn more about eligibility here.
The City of Chicago Law Department is hiring!
The City of Chicago Law Department is hiring for entry, mid, and supervisor level attorneys. View the open positions and job descriptions here.